Our unique community has the privilege of housing the Clinton County Historical Museum at the Paine-Gillam-Scott House, as well as the Clinton County Arts Council, and the Briggs District Library.
The City of St. Johns is just twenty (20) miles north of Lansing, the center of many arts and cultural activities.
Clinton County Historical Museum at the Paine-Gillam-Scott House
Clinton County Historical Museum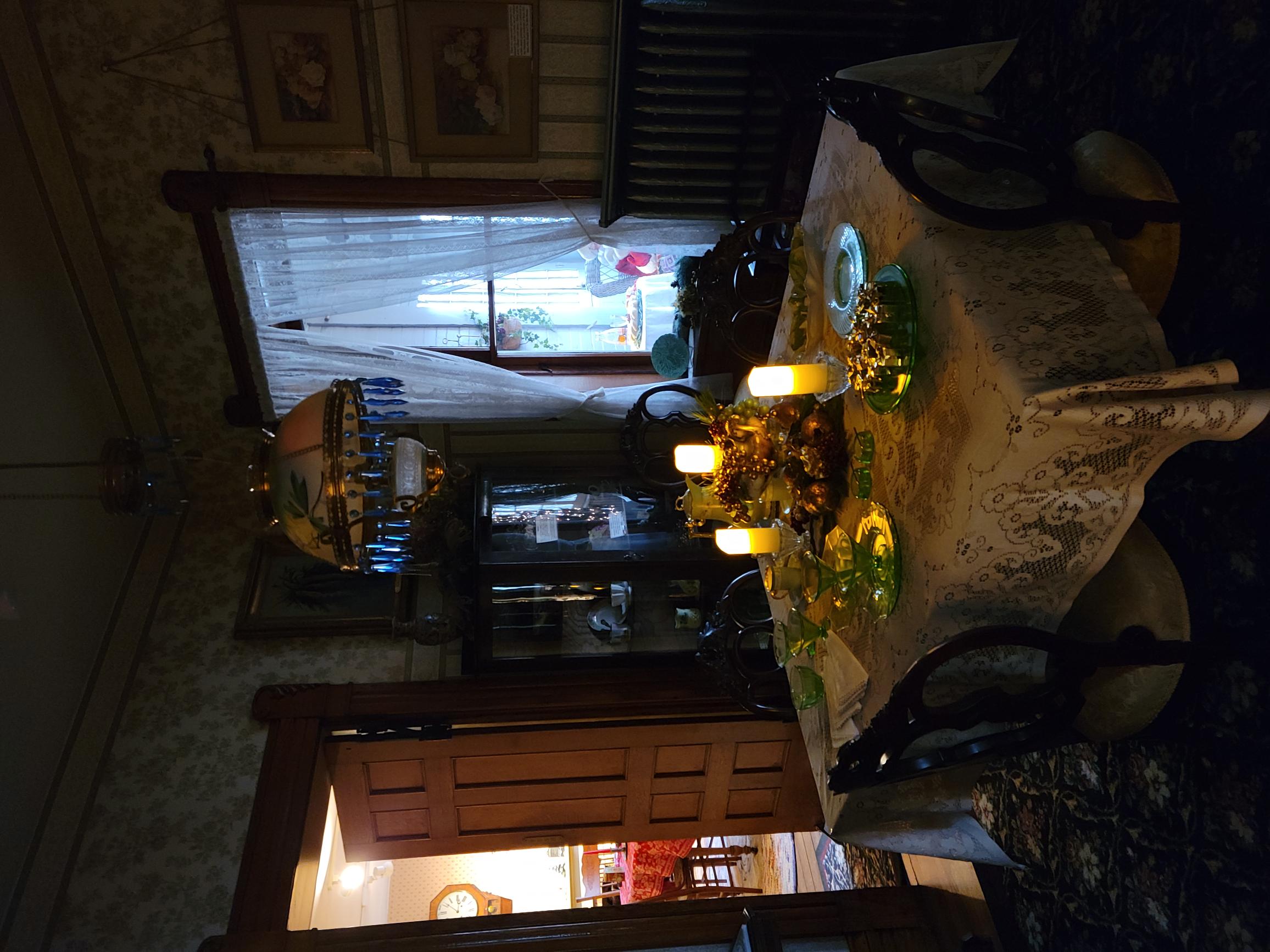 Christmas is coming and the Clinton County Historical Museum in St Johns will be open to celebrate!
As you are out and about this coming Holiday Season put Paine-Gillam-Scott House on your Christmas to-do list. House volunteers have been busy recreating a quaint Victorian Christmas with all the sights, sounds and tastes that the Holiday season has to offer. Beautiful cedar garland, a fresh Christmas tree and magical candlelight fills the House as we recreate a traditional Victorian Christmas season. Come and browse our cool collection of antique toys and decorations that fill the first floor of the House.
We will be open to the public on Wednesdays from 2 PM to 6 PM and Sundays from 1 PM to 4 PM through December 21, 2022. The House will also be hosting a children's Victorian Christmas event on Wednesday, December 14th from 4:30 PM to 6:30 PM complete with a tour of the House, a Victorian Christmas craft, refreshments and a story teller that will share with us a Christmas in the past.
Please make Paine Gillam Scott House part of your Holiday season. You will be amazed by the history we have to share. Feel free to contact us at (989) 224-2894 for more information.
If you have any interest in "old things" or want to be helpful in preserving such things for future generations, please contact 989-224-2894 or email pgsmuseum@gmail.com.
The Archives of the Clinton County Historical Society is available to anyone researching families and history of Clinton County and is open at 16101 Brook Rd, Lansing, MI. Hours are Monday and Tuesday 9 to 4, and Thursday 2 to 6. Contact 517.482.5117 x 2, or email ccgensoc@yahoo.com. Membership in the Archives ($20.00) includes a very interesting quarterly Newsletter "Clinton County Trails".
Clinton County Historical Society
Meets the first Monday of the month at 1:00 P.M., November through March; and at 7:00 P.M., April through October. Meetings are held at the First United Methodist Church, 200 E. State St., St. Johns.
For anyone needing additional information, send requests to CCHS, P.O. Box 174, St. Johns, MI 48879.
Clinton County Historical Society consists of the Museum and the Archives. The mission statement of the Clinton County Historical Museum is to maintain the complex related to and typical of the Clinton County history, to provide education, and encourage community involvement. Any skills and time you have that would fit the mission, i.e. computer skills, publicity, community awareness, document sorting and cataloging, textile preservation, displays, presentations, cleaning, maintenance (outside and inside), docent duty, etc., would be greatly appreciated. Please contact pgsmuseum@gmail.com or call 989-292-9096. We are located at 106 Maple in St. Johns and plan on reopening for the Mint Festival, August 14 and 15, 1pm-4pm, with the remaining year's schedule to be determined.
The Archives is the keeper of documents and photos that represent the history and residents of Clinton County. If you have free time and an interest in keeping history available and accessible, please contact Julie Peters at 989-501-0599 or petersj@msu.edu. There is always a need for computer skills (from home or at the Archives), filing, copying and research. You can check out our webpage at www.dewittlibrary.org/CCHS to see the types of things we do.
To assist the mission, donations and membership are needed. Dues for the Museum are $25.00 and the Archives $20. Both can be mailed to PO Box 174, St. Johns, MI 48879.
We are strictly a volunteer group, and the reward of knowing you are helping history stay alive is great! Thank you for your consideration and support.
RODNEY B. WILSON HIGH SCHOOL COLLAGE PHOTOS UPDATE…
After the sale of the former Rodney B. Wilson High School/Junior High School building, the Clinton County Historical Society was fortunate to obtain the framed collage photos from the graduating classes of 1925, 1941, 1945-1967, that had been hanging along the hallways for so many years. Central School was the high school before RBW was built for the 1925 graduating class. We also have the whole school photo from 1921 taken at Central School.
The frames are well worn and of the many individual photos they contain, less than five are missing. It has been decided that to make these accessible to the community, CCHS has had them digitized. For a donation you can obtain a digital file to use as you wish. (A print would make a great placemat at a reunion.)
To obtain a file, you will need to contact CCHS to arrange the file transfer. Contact the Museum at pgsmuseum.com, or 989.292.9096 or the Archives at petersj@msu.edu .
Clinton County Arts Council
http://www.clintoncountyarts.org/
Hosts events, projects, programming, and more, such as the Clinton Northern Railroad Museum, Concert in the Park series, Homegrown Productions and our Mint City Singers!
Gallery Hours:
Open Tuesday - Friday 10:00 A.M. - 5:30 P.M. Open Saturday 10:00 A.M. - 2:00 P.M.
Concerts in the Park
The popular summer "Concert in the Park" series, sponsored by the Clinton County Arts Council and the City of St. Johns, will open its season on Wednesday, June 15 this year with an incredible Bluegrass Band out of Ann Arbor. The series will include 12 concerts this summer, for the first time in 2 years, ending the season on August 31 with a concert featuring the King himself, Elvis! In between will a nice variety of performances featuring excellent musicians from throughout Michigan.
"We receive a lot of requests from performers each year wanting to come to St. Johns to perform," says Bill Tennant, concert coordinator. "This year, the committee decided to invite 4 outstanding new groups to join the lineup – inviting 3 groups back from last year - along with 5 groups who have performed previously on our series. Our patrons can be assured that every Wednesday evening throughout the summer, they will be able to hear an excellent performance here in St. Johns!"
The series will be held at the William E. Tennant Performance Shell in the beautiful St. Johns City Park. All concerts begin at 7:00 p.m. rain or shine. The Lions Club food trailer will be available this year – social distancing and safety precautions are encouraged. The CCAC receives funding from the Michigan Arts & Culture Council and the National Endowment for the Arts.
June 15 - The RFD Boys - Bluegrass at its Best
June 22 - Capital City Brass Band - Championship Band
June 29 - Surf Zup - Iconic Surf Guitar Hits from the 60's
July 6 - Lansing Concert Band - Wonderful Band Music
July 13 - C.A.R.Ma - Grammy Award Winners – Jazz/Blues
July 20 - Toppermost - Wonderful Beatles Tribute Band
July 27 - Ryan DeHues - Timeless Classic Jazz Standards
Aug 3 - The Louie Longoria Band - Big Time Country
Aug 10 - Detroit Retro Society - Experience the Music
Aug 17 - FRENDZ - Big Band Swing/50s Rock/Motown Greats
Aug 24 - Miranda & the M80s - The Best of the 80s
Aug 31 - Matt King - An Award-Winning Tribute to Elvis
St. Johns Community Band
Contact Roy Davis at 989-227-4273 for information on how to join.
More Information
Find content and services related to this page.