Our unique community has the privilege of housing the Clinton County Historical Museum at the Paine-Gillam-Scott House, as well as the Clinton County Arts Council, and the Briggs District Library.
The City of St. Johns is just twenty (20) miles north of Lansing, the center of many arts and cultural activities.
Clinton County Historical Museum at the Paine-Gillam-Scott House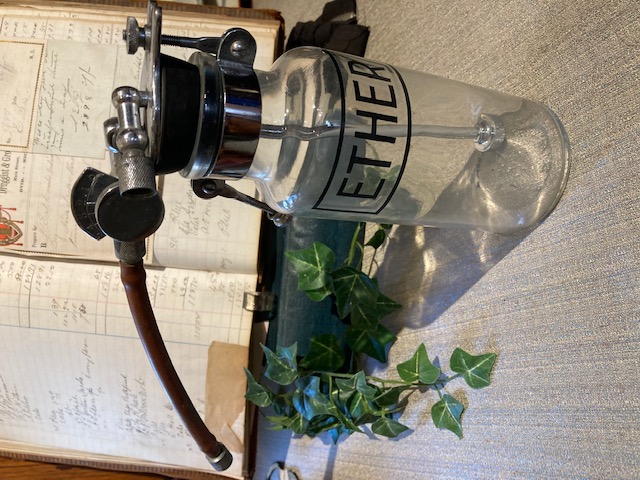 The Clinton County Historical Museum is showcasing a very interesting exhibit of medical items from yesteryear, along with pictures of Doctors and Dentists. All are displayed in new room arrangements. Also visit the newest room on display...the Mid-Century kitchen.
Check it out at 106 Maple, St. Johns, MI, west of the courthouse square. Open Sunday 1 to 4 and Wednesday 2 to 6. Also see pgsmuseum.com or contact pgsmuseum@gmail.com.
Museum Grand Reopening
Clinton County Historical Museum staff and volunteers have been very busy making much needed repairs to the old Paine-Gillam-Scott House located on the west side of the courthouse in St. Johns. When pandemic restrictions were lifted somewhat it seemed like the perfect time to tackle this labor intensive project. After countless hours of hard work a new very impressive museum is unfolding before our eyes. Special thanks go to Bill Irrer for his quality work in many areas of the restoration and to Karen Kusenda for her professional guidance in helping us transform the museum into what should prove to be a very pleasing experience for visitors. Our featured exhibit this year highlights Clinton County hospitals and medical professionals of years past. So tell your friends and bring your family to our Grand Reopening, August 14th and 15th (Mint Festival Weekend) from 1 to 4pm. Thereafter the museum will be open on Wednesdays 2 to 6 pm and Sundays 1 to 4 pm. Museum can be contacted by phone, 989 224 2894 or email, pgsmuseum@gmail.com
Hours: May - December, Wednesdays 2:00-7:00 P.M. & Sundays 1:00-4:00 P.M. (closed for holidays and holiday weekends ~ July 4, Memorial and Labor Days, Thanksgiving)
Phone: 989-224-2894
Email: PGSMuseum@hotmail.com
If you have any interest in "old things" or want to be helpful in preserving such things for future generations, please contact 989-224-2894 or email pgsmuseum@gmail.com.
The Archives of the Clinton County Historical Society is available to anyone researching families and history of Clinton County and is open at 16101 Brook Rd, Lansing, MI. Hours are Monday and Tuesday 9 to 4, and Thursday 2 to 6. Contact 517.482.5117 x 2, or email ccgensoc@yahoo.com. Membership in the Archives ($20.00) includes a very interesting quarterly Newsletter "Clinton County Trails".
Clinton County Historical Society
Meets the first Monday of the month at 1:00 P.M., November through March; and at 7:00 P.M., April through October. Meetings are held at the First United Methodist Church, 200 E. State St., St. Johns.
For anyone needing additional information, send requests to CCHS, P.O. Box 174, St. Johns, MI 48879.
Clinton County Historical Society consists of the Museum and the Archives. The mission statement of the Clinton County Historical Museum is to maintain the complex related to and typical of the Clinton County history, to provide education, and encourage community involvement. Any skills and time you have that would fit the mission, i.e. computer skills, publicity, community awareness, document sorting and cataloging, textile preservation, displays, presentations, cleaning, maintenance (outside and inside), docent duty, etc., would be greatly appreciated. Please contact pgsmuseum@gmail.com or call 989-292-9096. We are located at 106 Maple in St. Johns and plan on reopening for the Mint Festival, August 14 and 15, 1pm-4pm, with the remaining year's schedule to be determined.
The Archives is the keeper of documents and photos that represent the history and residents of Clinton County. If you have free time and an interest in keeping history available and accessible, please contact Julie Peters at 989-501-0599 or petersj@msu.edu. There is always a need for computer skills (from home or at the Archives), filing, copying and research. You can check out our webpage at www.dewittlibrary.org/CCHS to see the types of things we do.
To assist the mission, donations and membership are needed. Dues for the Museum are $25.00 and the Archives $20. Both can be mailed to PO Box 174, St. Johns, MI 48879.
We are strictly a volunteer group, and the reward of knowing you are helping history stay alive is great! Thank you for your consideration and support.
Trains Across Clinton County
Saturday, September 18th at 10 am
St. Johns Depot, 107 E. Railroad Street, St. Johns, MI
Enjoy an hour-long presentation on the history of the trains that traveled through the center of Clinton County for over 100 years. Learn about what it was like to work on the railway and have the opportunity of touring several railcars. This is a free event.
Then stick around and enjoy Fall Festival food and activities.
Clinton County Arts Council
http://www.clintoncountyarts.org/
Hosts events, projects, programming, and more, such as the Clinton Northern Railroad Museum, Concert in the Park series, Homegrown Productions and our Mint City Singers!
Gallery Hours:
Open Tuesday - Friday 10:00 A.M. - 5:30 P.M. Open Saturday 10:00 A.M. - 2:00 P.M.
Concerts in the Park Kick Off 18th Season
The popular summer "Concert in the Park" series, sponsored by the Clinton County Arts Council and the City of St. Johns, will open its season on Wednesday, July 7 this year with a husband-and-wife duo from Denver. The series will include 9 concerts ending the season on September 1 with a concert featuring the King himself, Elvis! In between is a nice variety of performances featuring excellent musicians from throughout Michigan.
"We receive a lot of requests from performers each year wanting to come to St. Johns to perform," says Bill Tennant, concert coordinator. "This year the committee decided to invite some new performers, giving our community a chance to hear a nice variety of different groups. There are only 2 groups performing this summer who were with us last year."
The series will be held at the William E. Tennant Performance Shell in the beautiful St. Johns City Park. All concerts begin at 7:00 p.m. rain or shine. The Lions Club food trailer will be available this year – social distancing and safety precautions are encouraged. The CCAC receives funding from the Michigan Council for Arts & Cultural Affairs and the National Endowment for the Arts.
July 7 - Alright Alright - Indy Folk and Americana from Denver
July 14 - Surf Zup - Iconic Surf Guitar Hits from the 60's
July 21 - Monday's Supper - The Tastiest Irish Music Around
July 28 - David Gerald Band - The Best of Detroit Blues
Aug 4 - Kari Holmes - Pop/Country Nashville Recording Artist
Aug 11 - Rachel Curtis - American Idol Folk/Pop Artist
Aug 18 - FRENDZ - Classic Pop Hits from AM Gold
Aug 25 - David Bennett Quartet - From Swing to Rock
Sept 1 - Matt King - An Award-Winning Tribute to Elvis
St. Johns Community Band
Contact Roy Davis at 989-227-4273 for information on how to join.
More Information
Find content and services related to this page.